Hoop Dreams and On Point Basketball is proud to partner with Sportsnet to produce NBA Draft Ready featuring Rexdale, Ontario's Eugene Omoruyi. Here is episode 2 which allows the viewers to "Relive the Highs and Lows of the 2021 NBA Draft Night with Canadian Eugene Omoruyi"
Special thanks to Sportsnet, Donnovan Bennett, Eugene Omoruyi, the Omoruyi family, Chris Smalling, Michael Simonetta Jr., Jason Dam & Tenfold Productions, Charlie Graham, our colleagues at Hoopdreams including Adrian Fenty, Michelle Kast and Julia Martin for making this collaboration possible and a huge success! Look out for more great content from the Hoopdreams/On Point Basketball tandem!
Photo by: Charlie Graham
March 25th, 2021
(Peterborough, ON) On Point Basketball in association with LTD Sports, is proud to introduce the On Point National Hoops Showcase, also known as Show 'N' Prove taking place on Victoria Day Weekend from Friday May 21st to Monday May 24th.
The Covid-19 pandemic and halting of basketball gameplay has resulted in limited opportunities for players looking to compete against their peers. Show 'N' Prove is here to change that dynamic by providing a high level, exciting and entertaining platform for players to show out and gain exposure, while having fun at the same time.
"Show 'N' Prove is like nothing Ontario and Canada has seen before, " said On Point Basketball founder and CEO & Show 'N' Prove Media, Content & Scouting Director , Drew Ebanks.
"It gives ballers of all ages and skill levels a chance to see how they match up against their basketball peers with divisions for Elementary School, Middle School, Secondary School, as well as Prep, AAU, College /University and Professionals. Looking forward to bringing this exciting new concept of basketball competition to the masses along with LTD Sports."
As part of the Show 'N' Prove movement, a portion of the proceeds from each event will be put back into the local community for initiatives such as gym access for underprivileged youth, underserved community groups and those with special needs.
The events will continue to champion mentorship in health, wellness & nutrition as well as outdoor court and indoor basketball facility refurbishing.
"A platform now exists where players can not only test their current skill levels in a safe environment, but also have a positive impact on those who are underserved in their community", states newly appointed Commissioner of Show 'N' Prove, Bill Crowdis.
"This is a great starting point for our return to play initiatives and something that could potentially unite our basketball communities. Every player deserves the opportunity to showcase their skills on a neutralized platform, to see where they stack up against their peers."
Show 'N' Prove is all about STACKING UP against your competition and showcasing your game with the difference makers in youth basketball in attendance.
Each player will put their shooting, ball handling and passing skills on display in an All-Star Combine formatted competition including a dunkoff, 3 point shootout, free throw competition, skills challenge and more, with results recorded and ranked for players, coaches and scouts to see.
Players will participate in games with their assigned squad to showcase their skills and basketball IQ and see how they STACK UP against the top players in their age group!
This event is NOT about drills and instruction. It is for players to SHOW OUT, gain exposure, compete, have fun and see where they STACK UP!
Show 'N' Prove Director of Player Identification, Damon Browne reiterates, "This is truly an exciting way to kick off basketball for 2021. Giving the players the option to register as individuals and play in competitions with arbitrarily selected teams, is a unique concept in Canada and will certainly bring a player's creativity and skills to the forefront! I can't wait to see the players SHOW OUT and STACK UP!!!"
The first Show 'N' Prove session is on the Victoria Day long weekend from Friday May 21st to Sunday May 24th, 2021 at the Playground East in Peterborough, ON. Cost is $100/Player. We look forward to seeing you STACK UP!
*STRICT COVID PROTOCOLS are in effect based on the guidelines set forth by local health departments as well our provincial and national sports governing bodies. Pre-registration is strongly encouraged.
For more information and to REGISTER TODAY go to www.shownprove.ca
INSTAGRAM AND FACEBOOK:
CONTACT:
(905) 419-6666
HASHTAGS: #snownprovecanada #onpointbasketball #letsplay #kawarthabasketball
MEDIA CONTACTS:
Damon Browne, Player Identification & Team Liaison
416 684-7592
Bill Crowdis, Commissioner
289 314-1152
Drew Ebanks, Media, Content & Scouting Director
647 987-4667
On Point Basketball Inc. is a basketball media, content & lifestyle portal that features prominent basketball personalities from across Canada and around the world. Our mission is to uplift the basketball community both in Canada and abroad through our production of high quality video, written basketball content, social media and basketball circuits & events.
Long Term Development Sports Inc. is an incorporated non-profit organization. Over the past decade LTD Sports has been actively developing initiatives to help improve the accessibility of quality community sports programs. Our mission is to motivate children and youth to participate in physical activity while promoting the importance of teamwork and healthy living.
On Point Scouting Exclusive written by Aaron Shore
Author note: Over the last few years, I've been writing occasionally about Canadian basketball, mostly for RealGM, under the pseudonym Hair Canada. I'm happy to join On Point Scouting as a lead writer on college basketball and the Canadian junior teams. This is my first piece for On Point Scouting.   
It's hardly a secret that we're in the golden age of Canadian basketball. 23 Canadians were on NBA rosters to start this season. The list includes young all-star level guys like Shai Gilgeous-Alexander (SGA), Jamal Murray, and Andrew Wiggins, as well as good NBA starters like Dillon Brooks, RJ Barrett, and Lugentz Dort, most of whom are not yet 25 years old. It also includes several trusted veterans like Kelly Olynyk, Cory Joseph, Tristan Thompson, Dwight Powell, and Khem Birch. Not to mention a few younger guys still in college or high school, who might join this list in the near future.  
And yet, this bonanza has not translated so far into senior national team success.  
Canadian basketball fans have seen their share of disappointments since last qualifying for the Sydney Olympics in 2000. Six years ago it was a semifinals shocker meltdown against Venezuela, which kept Canada from the 2016 Rio games and still haunts the dreams of the Canadian basketball community. This recent summer added a new burn, with the failure to qualify for the 2021 Tokyo Olympics. The tight loss in the semifinals of the Victoria tournament to the Czech Republic was incredibly frustrating. To add insult to injury, it happened on home soil. 
This feature will attempt to provide hope and reasons for optimism based on the Canadian pipeline of players. 
Why does this keep happening to Canada?  
Obviously, there is more than a singular reason and many explanations were tiredly dissected in the days that followed the loss to the Czech team. 
It certainly didn't help that Czech-American Blake Schilb, coming back from retirement for one last campaign with the Czech national team at the age of 37, decided to play the best game of his career against Canada, torching the hosts for 31 points on 7 of 12 shooting from behind the arc. Hard to fully prepare for such a random explosion! Some of this was truly unguardable: 
Czech point guard Tomas Satoransky, the team's only NBA player, was also tremendous. He used his advantages of both size and experience to dominate the young Canadian guards, scoring a tough game winner at the end of overtime despite Dort's strong defensive effort.  
We could also talk of course about various reasons that have to do with the Canadian team itself. Missing some of our best players, namely Murray, Gilgeous-Alexander, Brooks, Olynyk, Kevin Pangos, Birch, and a few others definitely hurt. Additionally, the fact that almost none of our leading guys play under FIBA rules on a regular basis is also a hampering factor. The young age of our lead guards (Dort, NAW, and RJ were all under 22 at the time), the very short preparation time before the tournament and the complete lack of practice games all contributed to this underperformance as well. 
For sure, all valid reasons.  
Yet, to me, there was another glaring one: 
Beyond the performances by Schilb and Satoransky, the game against the Czechs was largely decided in the paint. 7'1 Ondrej Balvin, a rather pedestrian European center, who's rarely exceeds double figure scoring averages in his career, finished the game with 14 points, 10 rebounds, and 5 blocks. No one in the Canadian team managed to provide an answer in the paint for Balvin's presence.
Ondrej Balvin (Courtesy eurohoop.net)
The thing is that this was not a one-time fluke like the Schilb explosion. In the first game of the qualifiers, a tight Canadian win (97-91) against a depleted Greek team, 7'1 center Georgios Papapagianis and 6'11 Konstantinos Mitoglou, two other fairly mediocre European bigs, felt very comfortable against the small Canadian frontcourt. They combined for 25 points and 15 rebounds and made life quite difficult for our post-players on both ends of the floor. 
Clearly, in FIBA basketball, size still matters. A lot. While the NBA has resolutely moved away from lumbering heavy centers, these players still play a BIG (bad pun, I know) role in the various European leagues and in the international game. Canada must take note if it hopes to avoid more heartbreaks in the future. A frontline featuring 6'10, 240 Dwight Powell as your dive-center and 6'9, 230 Trey Lyles as his backup/partner (or at times even 6'9 Andrew Nicholson) lacks girth and doesn't cut it at this level of competition, though all of them should be commended for suiting up. 
Can Canada do better?  
Having all of Olynyk, Birch, and Thompson available or some combination of these three would have been huge. I'm certainly still hopeful to see them wearing the red and white in the future.  
However, looking toward the future, to the next two World Cup (2023, 2027) and Olympic (2024, 2028) cycles, Olynyk, Birch, Thompson, and Powell will all be at least 32 in 2024. That threshold jumps to 36 years old in 2028. If they stay healthy, they might still play at a high level, especially Olynyk, whose game is not primarily predicated on athleticism. FIBA experience is priceless in these competitions so we should certainly not write them off. We'd be lucky to have the option of at least one or two of them still suit up at either of these competitions.  
With that said, it's clearly time to start thinking about new blood and the next generation of Canadian BIGS (and I put the word in caps here for a reason). 
What does the future of Canadian basketball in the paint look like?  
Generally speaking, big men develop at a slower pace than any other position in basketball. We should be very cautious in making any conclusive predictions based on how these players look like in their late teens or even early 20s. Nonetheless, I will be highlighting a few players who might be playing for Team Canada in the near or more distant future. 
In this four-part feature, I'm going to focus on relatively younger guys who primarily play the center position. Here are my filtering criteria: 
25 years old or younger 

 

6'10 or bigger, with good length

 

Bulk and physical muscle are necessary

 
Guys who feel most comfortable banging bodies in the paint

 
In all likelihood, not all of the guys mentioned here are or will be good enough to play on the big stage – the Olympics/World Cup. Still, the Canadian program will always need quality players who can step up when the NBA guys cannot to suit up for various reasons and the potential depth is important. 
The four posts in this feature will survey Professional players (in this post), NCAA players (both upperclassmen and underclassmen), and high school prospects in upcoming posts of this series. 
PROS 
I'll start with 3 guys in their early to mid-20s, who have all flirted with the NBA but were not able to stick thus far: Kyle Alexander, Mfiondu Kabengele, and Simi Shittu. 
KYLE ALEXANDER | Fuenlabarda (Spain) | 25.1yo | 6'11, 220lbs, 7'5 wingspan | College: Tennessee | from Milton, ON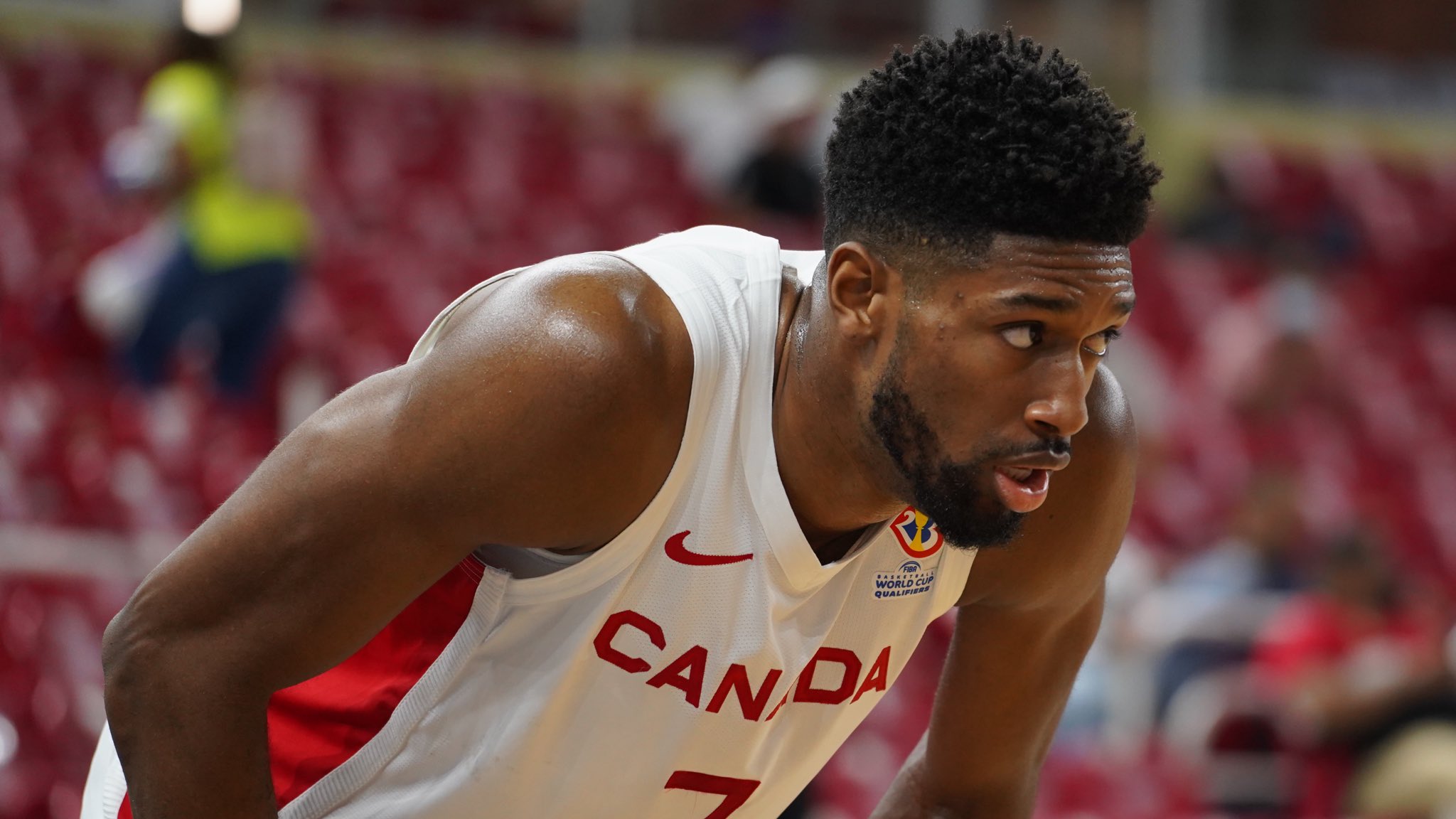 Kyle Alexander (Courtesy pbs.twimg.com)
Overview: After a very good showing in the 2021 summer league, Alexander seemed like he might get another chance in the NBA (He had a 2-game stint with the Miami Heat in 2019-20). It didn't happen and he went back to play in the Spanish league, generally considered the best domestic league in Europe. Going back to his college days at Tennessee, Alexander has never been a stat sheet stuffer on the offensive end. However, he's made some serious strides, really elevated his game and is currently playing very well.  
Following a bit of a slow start, over his last 11 games, Alexander is putting up 14.5 PPG and 6 RPG. He's also been highly consistent (only one game not in double figures) and incredibly efficient (71% from the field; only one game under 60%). He even hits the occasional 3-pointer (5 of 11 from behind the arc during this stretch). Alongside this offensive production, he has continued to provide excellent rim protection (2 blocks per game) and switchability, two traits that have always been his calling card given his combination of size, length, and fluidity. I truly think he deserves another real shot in the NBA. 
Team Canada Outlook: Alexander, who has never played for one of the Canadian junior teams, made his debut in the red and white last month in the first qualifying window for the 2023 World Cup. It was quite a sight for sore eyes. His statistical output didn't jump out of the page and he wasn't exceedingly dominant. Mind you, though, that it was not required against a very weak rival (two blowout Canadian wins against the Bahamas). In just 20 minutes per game, he provided exactly what the CMNT has been missing at the center position for years: a combination of size, rebounding, rim protection, and athletic finishes at the rim. For me, he needs to be high on the list for any future team, even if the NBA Bigs are in the mix, as he brings a unique mix of size and shot blocking skills. 
MFIONDU KABENGELE | Rio Grande Valley (G League) | 24.4yo C | 6'10, 250lbs, 7'3 wingspan | College: Florida State | from Burlington, ON 
Mfiondu Kabengele  (Courtesy therookiewire.usatoday.com)
Overview: The first-round pick from the 2019 draft hasn't been able to find consistent playing time in the NBA and failed to make an impact in the few opportunities he received with the Clippers and the Cavaliers). Nonetheless, he remains an interesting player. I watched a couple of his games in the G League lately and he looked good. The 3-point shooting has not really been falling for him and it hasn't since he finished college (31% on 5.3 3PA per game in his G League career). That's going to make it hard for him to get another chance in the NBA, as his shooting prowess was one of his main selling points coming out of college. Personally though, I think there's a positive side to it as it forces him to earn his keep in the paint. From what I've seen, he's been doing that pretty well this year.  
Kabengele is very active on the boards, especially the offensive glass (5 per game). He has good hands and finishes well around the rim (69% from 2). He also made 78% of his free throws in the G, though he should get to the line more often (2.5 attempts per game). He's currently at 17.5ppg and 10.5rpg, adding 2 stocks (steals plus blocks). He's not the most adept passer, but he can make the right read, having significantly improved his passing since college. On defense, he's not an elite shot blocker but can keep up with big guys. He's also not a complete liability in P&R and does a good job cleaning up the defensive boards (6 per game this year).  
Team Canada outlook: "Fio" has yet to play for Team Canada at any age group. He's a late bloomer and hence was not relevant for any of the youth teams. He also didn't play this summer in Victoria. Therefore, it remains to be seen whether he's even interested in putting on the red and white at some point in the future. His days as an NBA player might be behind him, though I'm sure he'd love to get another chance. As he is turning 25 this summer, it might be time for him to start considering some overseas options seriously. He has the potential to become a very good player in top European leagues, perhaps even a good Euroleague player. From a Team Canada perspective, this might be the best outcome. He'll be available for some of the qualifying windows and we'll get to see how he looks like if he's interested in suiting up. 
SIMI SHITTU | Ironi Nes Ziona (Israel) | 22.2yo | 6'10, 240lbs, 7'1 wingspan | College: Vanderbilt | from Burlington, ON 
Simi Shittu (Courtesy cdn.vox-cdn.com)
Overview: 3 years ago, if you asked any Canadian basketball fan (myself included) who our most promising young big is, most people would have answered with this guy. Simi is notably younger than the two guys named above and there's no reason to give up on his potential. However, his single college year should have helped us temper the high hopes many of us had for him. Things didn't quite work out well at Vanderbilt and he went from being a potential lottery pick to being undrafted. Although he did flash some offensive prowess, his touch around the rim and from the perimeter did not impress NBA scouts. Additionally, his defensive intensity and awareness were not quite on an NBA level. 
He still tried his luck in the NBA draft following his freshman college year but was not drafted. Shittu did play quite well in the G League last year (15 PPG and 10 RPG, making 56% of his 2-pointers). There was even a time when I thought he might get a chance in the NBA. However, there are several reasons why that hasn't been the case.  
Most notably, despite some intriguing flashes he showed in high school, it's fairly clear now that he doesn't have a strong perimeter game and shooting touch. While in Vanderbilt, he took 18 threes and made only 1. In both college and the G League he shot around 50% from the FT line. And he currently stands at 5 of 23 from the FT line (21%!) in his 5 first games in Israel and missed all of his 3-point attempts. This would indicate he has to earn his keep in the paint, which he actually managed to do pretty well in the G, though so far not as well as an overseas pro. However, it doesn't bode well for his future as an NBA player, considering he's also not an elite rim protector nor a great passer, and does not possess freakish athleticism.  
Team Canada outlook: I'm glad to see Simi trying the overseas option now, even if the reason was more about personal circumstances. He's had an unremarkable start to his pro career in Israel (6 points and 6 rebounds per game). It's important to remember though that the transition to the international game often requires an adjustment period. I would be happy to see him get a chance to run with Team Canada at some point, perhaps in one of the qualifying windows if he's interested to play.  
For now, I'm higher on the two guys above (especially Alexander), as well as on a couple of college players as potential Team Canada prospects. I'll write about some of these in my next two posts. 
Stay tuned! 
It was close until the end, but clutch free throws late gave the Raptors 905 a 116-114 win over the Cleveland Charge on Thursday night in Mississauga.  
The win puts the 905 back into the win column, moving them to 6-2 on the year and a perfect 4-0 on their home floor.  
It was a strong start for the 905 as Dalano Banton got involved early and often. A late first quarter run from RJ Nembhard Jr. gave the Charge control though, as they led 32-26 after the first. The second was a quick turnaround as the offence got rolling for the Raptors, scoring 39 in the Q, good enough for an 11-point lead at the half. Breein Tyree and Ashton Hagans got involved in the third quarter, and kept the 905 afloat with an 8-point lead despite issues holding onto the basketball. The Charge made big shots in the fourth to keep it close, but clutch buckets and timely stops were enough for the Raptors to squeak out a 2-point win.  
"I'm just continuing to trust in the Raptors development", said Banton after his big performance. "When I get to come down here and show what I can do it builds a lot of confidence for me. I feel like it's going to really help moving forward." 
Banton was the main man offensively all night long for the 905, scoring 33 points with 13 rebounds and 7 assists. Tyree wasn't far behind, with a clutch 27 points that included big scores down the stretch. Hagans scored 12 points in 15 minutes to go with 4 assists, and Josh Hall made a big impact on the glass off the bench, securing 9 boards alongside 7 points.   
Sheldon Mac was on fire for the Charge, scoring 32 points on just 13 shots in the loss. Nembhard Jr. was hot early and finished with an impressive 21-point, 6-rebound, 12-assist statline. Centre Josh Huestis was a big contributor, finishing proceedings with 16 points and 7 rebounds. Mitch Ballock hit a few big threes and ended on 12 points, while Trevon Scott had 8 points and 8 rebounds in 32 minutes of work.  
Keeping possession was an issue for the 905 in this contest, who committed 24 turnovers in the win. Their defence was able to force 14 turnovers of their own to keep them in the lead, but that's something that will have to improve moving forward.  
"The turnovers, man", said head coach Patrick Mutumbo following the win. "Just bad habits. We gotta go back and look at the tape and see how we can help." 
The win puts the 905 back into the win column after a tough loss to the Windy City Bulls on Tuesday night, and sets them up perfectly for the rest of this 7-game homestand at the Paramount Fine Foods Centre. 
The homestand will continue on Saturday afternoon for a rematch battle against the Charge at 2pm.  
GAME STATS: 
Raptors 905: 
Banton – 33 PTS 13 REB 7 AST 
Tyree – 27 PTS 4 REB 2 AST 
Hagans – 12 PTS 2 REB 4 AST  
Charge: 
Mac – 32 PTS 3 REB 3 AST 
Nembhard Jr. – 21 PTS 6 REB 12 AST  
Huestis – 16 PTS 7 REB 2 AST 
On Point Scouting exclusive by Dave Monaco
The Tuesday night thriller between Fort Erie International Academy (FEIA) and United Scholastic Academy (USA) did not disappoint. The heavyweight OSBA matchup was back and forth for the entirety of the game, but Fort Erie used a strong start to prevail in overtime by a score of 99-93. From poster dunks to clutch shots, this game had it all and is a testament to the level of competition in Canadian high school basketball.
Without further ado, here are OPS' 5 Standout Players
Fort Erie International Academy (FEIA) Record: 6-2
Jaden Clayton, #3, 6'1 PG (2022)
The speedy PG had a fantastic game. Clayton's performance showcased why he can be a successful facilitator at the next level, consistently making good decisions with the ball in his hands. Clayton showed great poise when pressured with the ball, hit the weak side shake repetitively as a pick and roll ball handler and did a good job finishing at the rim in and around bigger defenders. Clayton's clutch free throw shooting down the stretch, going a perfect 6/6 in the last minute of overtime, sealed the victory for Fort Erie. He made spot-up threes using his legs to release the ball at the top of his jump, finishing with 17 pts for the game.
Leonard Miller #11, 6'10 Wing, (2022)
Maybe this wasn't the game many expected to see from him, but he was nonetheless a standout performer for Fort Erie finishing with 36 pts. While he has already done a lot in the first part of the season to raise his profile, Miller showed continued improvement in his pick and roll reads. His progression coming off ball screens from attacking rim to hitting the weak side shake is now automatic. Miller used his length and speed at the top of Fort Erie's zone to disrupt USA's rhythm, especially in the 3rd quarter. He struggled with his pull-up jump shot from all over the court, but had a myriad of highlight plays. None were bigger than the and-1 basket that tied the game, sending it to overtime. Miller's late game heroics further illustrate why he is a top rank prospect in the country and in serious consideration as an NBA draft pick this very year.
United Scholastic Academy (USA) Record 9-2
Ose Okojie, #1, 6'6 Wing (2022)
Although he ended up on the losing side of the game, Ose Okojie (#1, USA), was excellent from start to finish. Okojie showcased his ability to space the floor with his shooting, his willingness to extend and finish through contact and his defensive versatility. He finished with a game-high 37 points but more than his scoring, he set the tone for his team with his intensity and focus. Okojie's energy on both ends had a major impact throughout the game. He was arguably the best player on the floor for the entirety of the game as he was the main offensive engine and guarded FEIA's Leonard Miller for big stretches of the game.
Efeosa Oliogu, #8, 6'5 Wing (2025) 
Oliogu shot the ball well from deep and displayed his high offensive IQ on numerous possessions by his movement off the ball against FEIA's zone defence. Oliogu did a very good job reading the defense and attacked the gaps to create an offensive advantage for USA. He did struggle a bit finding his spots to be aggressive on offence in the middle part of the contest and struggled containing the ball in middle ball-screen defence. He finished with 15 pts.
Vasean Allette, #0, 6'3 Guard (2023)
Allete came alive in crunch time and had some acrobatic finishes at the rim late in the game. He made use of a nice stack action to get shots off early on in the game and clearly made it a challenge to defend FEIA ball-handlers in PnR situations. His toughness and tenacity on both ends were crucial to USA's valiant effort. As always, his shot selection is one of the main indicators of the level of performance of his team. He finished with 18 pts.
The Toronto Raptors suffered a tight loss to the Heat on Monday night in Miami, 104-99.  
The loss is the Raptors third in their last four outings, and drops them to 21-20 on the season.  
It was a competitive start for the Raptors who looked active early defensively. With Gary Trent Jr. and multiple bench pieces unavailable, it was yet another short bench for the Raptors, and the legs started to tire in the second. The Heat opened things up and took a seven-point lead into the break, but the Raptors hung tough in the second half. Chris Boucher and Fred VanVleet were offensive catalysts for Toronto down the stretch, but Jimmy Butler and company proved to be too much in the end, securing a five-point victory on their home floor.  
The Raptors were led offensively by Boucher, who was the only player to make a significant impact off the bench in what was a short seven-man rotation. Boucher had 23 points and 10 rebounds for his best performance of the season. VanVleet followed close behind with 22 points including 6 threes, while Pascal Siakam contributed with 18 points and 10 rebounds for a double-double of his own. Rookie Scottie Barnes finished with 16 points, 8 rebounds and 6 assists, while OG Anunoby scored 14 despite inefficiencies shooting the basketball.  
Butler was the main man yet again for Miami, scoring 19 points with 10 rebounds and 10 assists for the triple-double. Gabe Vincent stepped up in Kyle Lowry's absence, scoring 15 points and swiping 2 steals. Bam Adebayo had 14 points and 9 rebounds in his first game back from injury, and Tyler Herro stayed hot off the bench, scoring 23 points on 50% from the floor.  
This was a game that many Raptors fans circled on the calendar to watch franchise legend Lowry play against his former team, but he was unfortunately labeled inactive prior to the game due to personal reasons.  
The trend continued of Raptors starters getting heavy minutes, and you could tell the players legs began to tire. Toronto has the lowest scoring bench in the NBA as of January 18th.  
Although they've gone 1-3 in the last 4, the Raptors played close against the Suns, Bucks and Heat, three of the biggest contenders in the league. There are definitely positives to takeaway with two games left on this road trip.  
The Raptors now find themselves in 9th in the East, although they are only 1.5 games out of 7th, and 5.5 games out of 1st in what is a very bunched up conference. Tuesday's game marks the official halfway point of the season for the Raptors, who have been hovering near the play-in tournament conversation all season long.  
Both teams will be back in action on Wednesday as the Raptors travel to Dallas to take on the Mavericks, and the Heat play host to the Portland Trail Blazers.  
GAME STATS: 
Toronto: 
Boucher – 23 PTS 10 REB 0 AST 
VanVleet – 22 PTS 4 REB 4 AST 
Siakam – 18 PTS 6 REB 10 AST  
Miami: 
Butler – 19 PTS 10 REB 10 AST 
Herro – 23 PTS 4 REB 3 AST  
Adebayo – 14 PTS 9 REB 2 AST 
The Raptors 905 hung on late for a 111-99 victory against the Lakeland Magic, their second win against them in two days.  
The win moves the 905 to the top of the Eastern Conference with a 5-1 record.  
It was a sloppy first quarter from both sides on Sunday afternoon, with a plethora of missed shots and turnovers coming early on. Jodie Meeks caught fire at the end of the frame though, hitting 4 threes in quick succession, propelling the 905 to an early 30-17 lead. The second and third quarters saw the Magic slowly find their offence, and they kept the score close as a result. Even with the 905 being the better team, they only led 84-78 after three quarters. It remained much of the same in the fourth until about four minutes to play, where Kevon Harris and Ashton Hagans in particular began to takeover, putting the game out of reach in its final moments. 
"Leave it all out there", Hagans side post-game about his mindset. "We've been trying to get a double-digit win cause there's been a lot of close games, but every win is a big one." 
Hagans led the way for the 905, scoring 24 points with 6 rebounds and 11 assists on 7/13 from the floor. Harris had a double-double with 18 points and 12 rebounds, while Perry shook off a quiet start with a double-double of his own; recording 15 points and 10 boards. Meeks was impactful off the bench, hitting 5 threes for 15 points, and Canadian Aaron Best had 5 points with 3 rebounds.  
It was a balanced attack for the Magic on Sunday with seven players scoring in double figures. Jaire Grayer and Hassani Gravett led the way with 19 points, while BJ Johnson shot 6/21 for 17. Jeremiah Tilmon had a 10-point 10-rebound double-double, and Jon Teske had 12 points with 5 boards off the bench.  
It was a massive showing from Raptors 905 beyond the arc in the win, as they shot an impressive 18/39 from deep, a 46% clip.  
"We've been doing a much better job competing and going on runs", Reggie Perry said about the team's performance post-game. "I'm proud of this team and of myself for sticking through it
The win marks their second straight in as many days, and improves them to 3-0 on home floor this year. Despite the lineup changes, the core has remained consistent, and they are looking impressive in the early stages of the regular season.  
Raptors 905 will be back in action on the 18th against the Windy City Bulls, while the Magic will return on the 19th to face the Wisconsin Herd.   
GAME STATS: 
Raptors 905: 
Hagans – 24 PTS 6 REB 11 AST 
Harris – 18 PTS 12 REB 2 AST 
Perry – 15 PTS 10 REB 3 AST  
Magic: 
Gravett – 19 PTS 3 REB 4 AST 
Grayer – 19 PTS 8 REB 2 AST  
Johnson – 17 PTS 7 REB 3 AST 
A big fourth quarter from Raptors 905 propelled them to an 88-82 victory over the Lakeland Magic on Saturday afternoon in Mississauga.  
The come-from-behind win improves the Raptors record to 4-1 on the young season.  
It was a stingy start for both sides in this one, with extreme defensive intensity on both ends. Kevon Harris was hot early for the 905, and led them to a 23-16 lead after the first. The Magic came out firing to start the second, opening up a 15-2 run on the back of forward BJ Johnson. The Raptors regained composure late in the quarter though, and led 40-39 at the break. The third was more of the same as the Magic exploded out of the gate, dominating the glass and making things look easy inside. The 905 were able to minimize the damage, but there was work to be done as they trailed by six heading into the fourth. After a stingy start to the final 12, Reggie Perry and Breein Tyree shot the 905 back into the lead, and they were able to hold on late with some clutch defensive stops, giving them the six point victory.  
"There's work to be done offensively, but thankfully our defence carried us", said 905 coach Patrick Mutumbo, reflecting on the game. "Anytime you can shoot 32% and still find a way to win, I'm not going to complain." 
The 905 were led by Perry, who shot 9/16 for a team-leading 22 points, along with 12 rebounds for the double-double. Tyree came alive in the fourth quarter and finished with 16, while Ashton Hagans impressed with 14 points, 6 rebounds and 4 assists. Harris provided offence in the first and finished with a crucial 15 points, while Jodie Meeks had a big 5 points and 5 rebounds off the bench. It was a tough night for Canadian and Ryerson graduate Aaron Best, who finished with 2 points, 3 rebounds and 1 assist.  
Lakeland forward Johnson carried a bulk of the offensive weight in the loss, scoring a game-leading 28 points alongside 7 rebounds. Big man Jeremiah Tilmon and guard Hassani Gravett finished with 12 points each, while Samir Doughty contributed with 8 points off the bench. 
It was a tough shooting night for both sides, but the Raptors were able to convert on clutch threes in the fourth, and never turned back.  
"As a team I feel like we really struggled shooting the ball, so I just wanted to help, try and open up the floor", said Kevon Harris. "I just wanted to be aggressive and help us win." 
The win was important as any for the 905 who are now 4-1 and near the top of the Eastern Conference. It's still early, but it's a good start to the year for a team that could challenge the top teams in the league.  
Both teams will meet again on Sunday afternoon for the second half of a back-to-back at the Paramount Fine Foods Centre.  
GAME STATS: 
Raptors 905: 
Perry – 22 PTS 12 REB 3 AST 
Tyree – 16 PTS 8 REB 3 AST 
Harris – 15 PTS 3 REB 5 AST  
Magic: 
Johnson – 28 PTS 7 REB 0 AST 
Tilmon – 12 PTS 6 REB 2 AST  
Gravett – 12 PTS 7 REB 5 AST 
(Toronto, On) Durrant Sports Management is proud to announce the signing of talented Canadian point guard Lindell Wigginton. 
The 23 year old Wigginton (6'1", 190lbs), a native of Dartmouth, NS, is averaging 23 points, 10 assists and 6 rebounds per game while shooting .405 from the field for the Wisconsin Herd of the NBA G League in the last two games this season. 
Wigginton had a stellar summer of 2021 in the CEBL for the Hamilton Honey Badgers which earned him several accolades and awards.
Wigginton claimed the CEBL scoring title pouring in 21.5 points per game to go with 4.9 rebounds per game, 4.4 assists per game while shooting 41% from three point land in 32.8 minutes per game.
Wigginton was also named the Canadian Player of the Year, Clutch Player of the Year and was named to the All-CEBL first team and the CEBL All-Canadian Team.
For his NBA G League career, Wigginton has averaged 16 points, 4.5 assists and 3.9 rebounds per game.  
Wigginton is known for his scoring prowess while utilizing his quickness and above average athletic ability to generate offence during his career from prep school at Oak Hill Academy to Iowa State and now onto the G League. 
DSM founder Gary Durrant is very high on Wigginton, "The thing I love most about Lindell is that he is a high character young man from a great family. His parents have done such an awesome job with him. He's mature and respectful, he's a consummate professional who makes others around him better." 
Durrant added, "His basketball IQ is excellent. He's a gifted scorer, super athletic and has a great feel for the game. He knows what he has to do to get to the next level and my team and I are grateful for the opportunity to assist him in getting there." 
"Lindell is already an accomplished player on both sides of the ball. Defensively he can guard anybody on the court. Offensively, Lindell impacts a game with his leadership, his passing and his scoring. In addition he's a fearless competitor who always leaves it all on the court", said Durrant. 
When asked about joining DSM and working with Durrant and his team, Wigginton felt it was time for a change,  "It feels good. Just to have a fresh new start. Someone I'm familiar with and who had a relationship with my Dad. Feels good to have someone who's going to work his butt off for me." 
When asked what he wants to do to give him a great shot of moving up to the NBA Wigginton added, "Just being consistent with my all-around game. Being consistent with my shot and just showing I can play the one and limit my turnovers and that's what I think can get me to the next level." 
Wigginton knows his reputation as a scorer precedes him, but wants to change that perception. "Obviously I'm a scorer but I have been having success showing I can run a team and getting my assist numbers up." 
You can sense the joy that Durrant has in taking on fellow Canadian Wigginton as a client.  
"Lindell has NBA skill and talent and his work ethic is second to none. He works on his body and his game and is very coachable. He leads by example on and off the court." 
"I am very familiar with Lindell's wonderful family and community in Halifax. Lindell means a lot to many people in his community and this country. He has had success at every level in his young basketball career. He is a model citizen who always looks for an opportunity to give back and inspire. 
We are looking forward to helping Lindell build his platform on and off the court and 
maximize his potential and opportunities. I believe in Lindell Wigginton and I'm ready to fight for him. My team and I are tremendously excited to welcome Lindell and his family to our team here at DSM." 
When asked about working specifically with Durrant, Wigginton said, "Gary's resume, all his guys got called up. Just his resume, what he stands for. A guy that's gonna work for his guys no matter what. He had a relationship with my Dad. He recruited me in college and often came to see me play. I didn't sign with him initially, but it is time." 
Wigginton had a stellar NCAA career at Iowa State University where he averaged 15.2 points, 3.9 rebounds and 2.5 assists per game for his career with the Cyclones. 
Wigginton has always been proud and enthusiastic to play for his country, first helping lead Canada to a silver medal at the 2016 FIBA Americas U18 Championships in Valdivia, Chile and then playing a pivotal role in Canada winning gold at the 2017 FIBA U19 World Cup in Cairo, Egypt where he averaged 12.4 points, 7 rebounds and 4.2 assists. The gold was the first for Canada in a global competition. 
Wigginton has garnered several awards so far in this basketball career including:  
All-CEBL First Team (2021) 
Big 12 Sixth Man Award (2019) 
All-Big 12 Honorable Mention (2019) 
Big 12 Player of the Week (2019 – Feb. 18) 
Big 12 All-Tournament Team (2019) 
Preseason All-Big 12 (2019) 
Naismith Trophy Preseason Watch List (2019) 
Wooden Award Preseason Watch List (2019) 
Lute Olson Award Preseason Watch List (2019) 
All-Big 12 Honorable Mention (2018) 
Big 12 All-Newcomer Team (2018) 
USBWA All-District VI (2018) 
Big 12 Newcomer of the Week (2018 – Dec. 11, Jan. 15, Feb. 26) 
MidMajorMadness.com First-Team All-Canadian (2018) 
Big 12 Sixth Man of the Year (2019) 
Big 12 All-Newcomer Team (2018)  
Selected for the Nike Hoop Summit-Team World 
Family:
Wigginton's father is Fleming Downey, his mother is Nicole Wigginton-Downey. 
His brother Rodell Wigginton who played at Buffalo. 
Courtesy Durrant Sports Management  
Photo courtesy Wisconsin Herd/Julian @prizedup
The Toronto Raptors win streak came to an end on Tuesday night in a tough 99-95 loss to the Phoenix Suns.  
The loss marks the first defeat for the Raptors since their core returned from COVID-protocols, and drops them to 20-18 on the season.  
Much like the other night against the Pelicans, this contest was closely contested until the final buzzer, although this time it didn't bounce Toronto's way. The Raptors looked good in the first quarter, taking an early 31-22 lead. Through forced turnovers and offensive rebounds, the Raptors were able to stay on the front foot despite very poor shooting percentages, and they took a 3-point lead into the half. The third was a stalemate, and the fourth was up-for-grabs until Devin Booker turned it up in the final moments. He was the best player on the floor in the last few minutes, and propelled the Suns to a close, and ugly, 99-95 win at Scotiabank Arena. 
It was more of the same for the Raptors on Tuesday; production from their stars and little from their reserves, although a lot of it can once again be attributed to injury as Scottie Barnes and Gary Trent Jr. were both held out of proceedings, forcing Yuta Watanabe into the starting lineup last minute.  
Toronto's leading scorer on the night was OG Anunoby, who had one of his best offensive games in recent memory with a 25-point outing, despite the poor shooting from 3 (which was an issue for the entire team). Pascal Siakam was solid with 22 points, 7 rebounds and 7 assists, and Fred VanVleet had 21 points and 5 assists. It was a big drop off from the big three names, with their next leading scorer being Canadian Chris Boucher off the bench with an efficient 13 points.  
It was a complete team effort for the Suns on Tuesday, who didn't have a single player score 20, but got 12 points minimum from the everyone on starting unit. Devin Booker finished with an important 16 points despite going 4/13, Jae Crowder led the team with 19 points and 5 rebounds, and Deandre Ayton was 1 rebound shy of a double-double, finishing with 16 and 9. Chris Paul was arguably the most important man on the floor for Phoenix, tallying 12 assists to go along with his 15 points. It was a quiet night for the Suns bench, but their defensive efforts were able to counter the lack of production.  
Much like in games earlier this season, the Raptors completely shot themselves out of the game. Toronto went 8/37 from long range, equalling 21.6%. Anunoby shot 13 threes and only made 4, Siakam was 0/5, and the entire bench as a whole went 0/6. The looks were there, but it's hard to win games against a team like Phoenix shooting at those percentages.   
Also compounding the issue for the Raptors was the team missing 10 free throws in the contest. 
The Raptors had 22 offensive rebounds (most on the season) and forced 20 turnovers, which would be enough to win in this league most nights. As the game drew into its final stages though, it became apparent that the skill and fight on the Suns combined with the aforementioned poor Toronto shooting was too much to overcome.   
The loss halts the Raptors climb up the Eastern Conference standings but still leaves them in a decent position in eighth place, 1.5 games behind sixth.  
Both teams will be back in action Friday after a few days off, with the Raptors opening a 5-game road trip in Detroit against the Pistons, while the Suns travel to Indiana for a date with the Pacers.  
GAME STATS: 
Toronto: 
Siakam – 22 PTS 7 REB 7 AST 
Anunoby – 25 PTS 2 REB 1 AST 
VanVleet – 21 PTS 2 REB 5 AST  
Phoenix: 
Paul – 15 PTS 2 REB 12 AST 
Crowder – 19 PTS 5 REB 3 AST  
Booker – 16 PTS 5 REB 3 AST 
The Toronto Raptors won their sixth straight game on Sunday evening as they defeated the New Orleans Pelicans 105-101 at Scotiabank Arena.  
The win moves the Raptors to 20-17, and brings their much-improved home record to 12-10.  
After their previous two outings featured rough defensive starts, it was a much calmer first quarter on Sunday night. The Raptors led 27-26 after the opening 12 minutes and kept things in control in the second. Pascal Siakam was getting to his spots and Khem Birch filled into the lineup nicely after Gary Trent Jr. was listed as a last-minute scratch. The game remained close throughout as the Raptors led by two going into the fourth, before the Pelicans took the lead with a few minutes to go. From there, Fred VanVleet hit two clutch threes to regain the lead, and the Raptors were able to hold on the rest of the way for their sixth straight.  
The Raptors were once again led offensively by Siakam and VanVleet, the two stars that have carried a majority of the production since returning from COVID protocol. VanVleet scored 32 points with 4 rebounds and 4 assists, while Siakam scored 29 and grabbed 10 rebounds alongside 7 assists for the near triple-double. OG Anunoby scored 12 points on 12 shots, while it was a quiet offensive night for Birch and Scottie Barnes. Svi Mykhailiuk, Precious Achiuwa and Canadian Chris Boucher were the only three players to come off of the bench in this one, and they combined for 19.  
The Pelicans got most of their production from two players in Sunday night's defeat. Brandon Ingram finished with 22 points and 5 rebounds, while former Raptor Jonas Valanciunas dominated the glass, totalling 17 rebounds to go with 20 points for the impressive double-double. Herbert Jones had 13 points, and Canadian Nickeil Alexander-Walker had 11 points and 2 assists in 18 minutes off of the bench. 
With a few players still on COVID-protocol the Raptors bench remained thin, although there were more players available tonight than in the past few. Nick Nurse decided to only run an 8-man rotation, giving heavy minutes to the starters once again. It may be working now, but the Raptors need more bench production moving forward or the starters will begin to gas out by the time the playoffs roll around. 
The Raptors were outscored in bench points, outrebounded, had more turnovers and less assists, and yet walked away with the win in large part to their two biggest names. Siakam and VanVleet have carried the team at times throughout the win streak, and tonight was one of the biggest examples of that. VanVleet has been smarter than ever in terms of picking his spots, and Siakam's resurgence on the glass has added a new dimension to his game.  
Flaws aside, the Raptors are closing out close games, and that was something that cost them multiple times early in the season. They currently sit in seventh place, only half a game behind Cleveland for an automatic playoff spot.  
Both teams will be off on Monday and return Tuesday, with the Raptors welcoming in the frontrunning Phoenix Suns and the Pelicans hosting the Timberwolves.  
GAME STATS: 
Toronto: 
VanVleet – 32 PTS 4 REB 4 AST 
Siakam – 29 PTS 10 REB 7 AST 
Anunoby – 12 PTS 5 REB 2 AST  
New Orleans: 
Ingram – 22 PTS 5 REB 4 AST 
Valanciunas – 20 PTS 17 REB 1 AST  
Alexander-Walker – 11 PTS 1 REB 2 AST 
The Toronto Raptors made it five straight wins on Friday night as they defeated the Utah Jazz 122-108 in an empty Scotiabank Arena.  
The win improves the Raptors to 19-17 on the season, and moves their home record to 11-10; above .500 for the first time this campaign.  
Much like the previous game in Milwaukee, it was a slow start against a depleted opponent. The Raptors allowed 40 points in the first quarter to a Jazz team that barely had enough bodies to play. A closer second quarter gave the Raptors a chance though, as they trailed 62-49 heading into the break. Third quarters have been going the Raptors way as of late, and the trend continued, almost entirely due to a complete takeover by Fred VanVleet. VanVleet scored 17 straight points and finished with 24 points in the third quarter alone, in what was one of the best individual quarters in Toronto Raptor history. His incredible showcase brought the Raptors all the way back, giving them a 2-point lead heading into the fourth, where they would lock in defensively, forcing the tired Jazz to just 16 points. For the second straight outing, the Raptors put their foot on the gas in the second half and didn't look back, and it led to what was a comfortable 14-point win in the end.  
As previously mentioned, Friday night was the VanVleet show. VanVleet recorded his first ever triple-double in the win, scoring 37 points, 10 rebounds and 10 assists. Besides the star guard, the other two main offensive players showed up to play once gain. OG Anunoby scored 22 points on 8/13 from the field, and Pascal Siakam had 17 with 5 boards. Gary Trent Jr. had a quiet 10 points but made a few big buckets late, and rook Scottie Barnes finished just 1 board shy of a double-double with 11 points and 9 rebounds. Canadian Chris Boucher had an excellent game off the bench with 13 points, while Precious Achiuwa contributed with 9 of his own.  
The Jazz only had nine available players in this one, and they ended up using them all. Eric Paschall led the team with an impressive 29 points, and Elijah Hughes was right behind with 26 points and 8 rebounds. Jared Butler contributed with 17 points, and Danuel House Jr. had the biggest impact off the bench, with 13 points on 4/7 from the field.  
The Raptors were once again beneficiaries of an opposition struggling with injury/COVID-protocol, but they surely won't feel sorry about it. Toronto has dealt with as many missed games as anyone this season, and it finally seems as if the breaks are bouncing their way instead.  
It was another night of being outscored in bench points, but the work the Raptors did on defence made it redundant. Toronto forced 21 turnovers while only committing 7, and that was the story of the game.  
Now two games above .500, the Raptors are starting to climb the ranks of the Eastern Conference. Toronto are 2.5 games ahead of the 11th place Boston Celtics, and only 1.5 games behind the Cavaliers for 6th. The Raptors are cemented into the play-in tournament race and might even be in contention for more as the season continues to roll on. 
The Raptors will look to make it six in a row on Sunday when the New Orleans Pelicans come to town, while the Jazz will look to get back on track on the second night of a back-to-back in Indiana vs. The Pacers.  
GAME STATS:
Toronto: 
VanVleet – 37 PTS 10 REB 10 AST 
Anunoby – 22 PTS 4 REB 2 AST 
Siakam – 17 PTS 5 REB 5 AST  
Utah: 
Paschall – 29 PTS 3 REB 2 AST 
Hughes – 26 PTS 8 REB 4 AST  
Butler – 17 PTS 3 REB 4 AST