On Point Scouting Exclusive written by Aaron Shore
Author note: Over the last few years, I've been writing occasionally about Canadian basketball, mostly for RealGM, under the pseudonym Hair Canada. I'm happy to join On Point Scouting as a lead writer on college basketball and the Canadian junior teams. This is my first piece for On Point Scouting.   
It's hardly a secret that we're in the golden age of Canadian basketball. 23 Canadians were on NBA rosters to start this season. The list includes young all-star level guys like Shai Gilgeous-Alexander (SGA), Jamal Murray, and Andrew Wiggins, as well as good NBA starters like Dillon Brooks, RJ Barrett, and Lugentz Dort, most of whom are not yet 25 years old. It also includes several trusted veterans like Kelly Olynyk, Cory Joseph, Tristan Thompson, Dwight Powell, and Khem Birch. Not to mention a few younger guys still in college or high school, who might join this list in the near future.  
And yet, this bonanza has not translated so far into senior national team success.  
Canadian basketball fans have seen their share of disappointments since last qualifying for the Sydney Olympics in 2000. Six years ago it was a semifinals shocker meltdown against Venezuela, which kept Canada from the 2016 Rio games and still haunts the dreams of the Canadian basketball community. This recent summer added a new burn, with the failure to qualify for the 2021 Tokyo Olympics. The tight loss in the semifinals of the Victoria tournament to the Czech Republic was incredibly frustrating. To add insult to injury, it happened on home soil. 
This feature will attempt to provide hope and reasons for optimism based on the Canadian pipeline of players. 
Why does this keep happening to Canada?  
Obviously, there is more than a singular reason and many explanations were tiredly dissected in the days that followed the loss to the Czech team. 
It certainly didn't help that Czech-American Blake Schilb, coming back from retirement for one last campaign with the Czech national team at the age of 37, decided to play the best game of his career against Canada, torching the hosts for 31 points on 7 of 12 shooting from behind the arc. Hard to fully prepare for such a random explosion! Some of this was truly unguardable: 
Czech point guard Tomas Satoransky, the team's only NBA player, was also tremendous. He used his advantages of both size and experience to dominate the young Canadian guards, scoring a tough game winner at the end of overtime despite Dort's strong defensive effort.  
We could also talk of course about various reasons that have to do with the Canadian team itself. Missing some of our best players, namely Murray, Gilgeous-Alexander, Brooks, Olynyk, Kevin Pangos, Birch, and a few others definitely hurt. Additionally, the fact that almost none of our leading guys play under FIBA rules on a regular basis is also a hampering factor. The young age of our lead guards (Dort, NAW, and RJ were all under 22 at the time), the very short preparation time before the tournament and the complete lack of practice games all contributed to this underperformance as well. 
For sure, all valid reasons.  
Yet, to me, there was another glaring one: 
Beyond the performances by Schilb and Satoransky, the game against the Czechs was largely decided in the paint. 7'1 Ondrej Balvin, a rather pedestrian European center, who's rarely exceeds double figure scoring averages in his career, finished the game with 14 points, 10 rebounds, and 5 blocks. No one in the Canadian team managed to provide an answer in the paint for Balvin's presence.
Ondrej Balvin (Courtesy eurohoop.net)
The thing is that this was not a one-time fluke like the Schilb explosion. In the first game of the qualifiers, a tight Canadian win (97-91) against a depleted Greek team, 7'1 center Georgios Papapagianis and 6'11 Konstantinos Mitoglou, two other fairly mediocre European bigs, felt very comfortable against the small Canadian frontcourt. They combined for 25 points and 15 rebounds and made life quite difficult for our post-players on both ends of the floor. 
Clearly, in FIBA basketball, size still matters. A lot. While the NBA has resolutely moved away from lumbering heavy centers, these players still play a BIG (bad pun, I know) role in the various European leagues and in the international game. Canada must take note if it hopes to avoid more heartbreaks in the future. A frontline featuring 6'10, 240 Dwight Powell as your dive-center and 6'9, 230 Trey Lyles as his backup/partner (or at times even 6'9 Andrew Nicholson) lacks girth and doesn't cut it at this level of competition, though all of them should be commended for suiting up. 
Can Canada do better?  
Having all of Olynyk, Birch, and Thompson available or some combination of these three would have been huge. I'm certainly still hopeful to see them wearing the red and white in the future.  
However, looking toward the future, to the next two World Cup (2023, 2027) and Olympic (2024, 2028) cycles, Olynyk, Birch, Thompson, and Powell will all be at least 32 in 2024. That threshold jumps to 36 years old in 2028. If they stay healthy, they might still play at a high level, especially Olynyk, whose game is not primarily predicated on athleticism. FIBA experience is priceless in these competitions so we should certainly not write them off. We'd be lucky to have the option of at least one or two of them still suit up at either of these competitions.  
With that said, it's clearly time to start thinking about new blood and the next generation of Canadian BIGS (and I put the word in caps here for a reason). 
What does the future of Canadian basketball in the paint look like?  
Generally speaking, big men develop at a slower pace than any other position in basketball. We should be very cautious in making any conclusive predictions based on how these players look like in their late teens or even early 20s. Nonetheless, I will be highlighting a few players who might be playing for Team Canada in the near or more distant future. 
In this four-part feature, I'm going to focus on relatively younger guys who primarily play the center position. Here are my filtering criteria: 
25 years old or younger 

 

6'10 or bigger, with good length

 

Bulk and physical muscle are necessary

 
Guys who feel most comfortable banging bodies in the paint

 
In all likelihood, not all of the guys mentioned here are or will be good enough to play on the big stage – the Olympics/World Cup. Still, the Canadian program will always need quality players who can step up when the NBA guys cannot to suit up for various reasons and the potential depth is important. 
The four posts in this feature will survey Professional players (in this post), NCAA players (both upperclassmen and underclassmen), and high school prospects in upcoming posts of this series. 
PROS 
I'll start with 3 guys in their early to mid-20s, who have all flirted with the NBA but were not able to stick thus far: Kyle Alexander, Mfiondu Kabengele, and Simi Shittu. 
KYLE ALEXANDER | Fuenlabarda (Spain) | 25.1yo | 6'11, 220lbs, 7'5 wingspan | College: Tennessee | from Milton, ON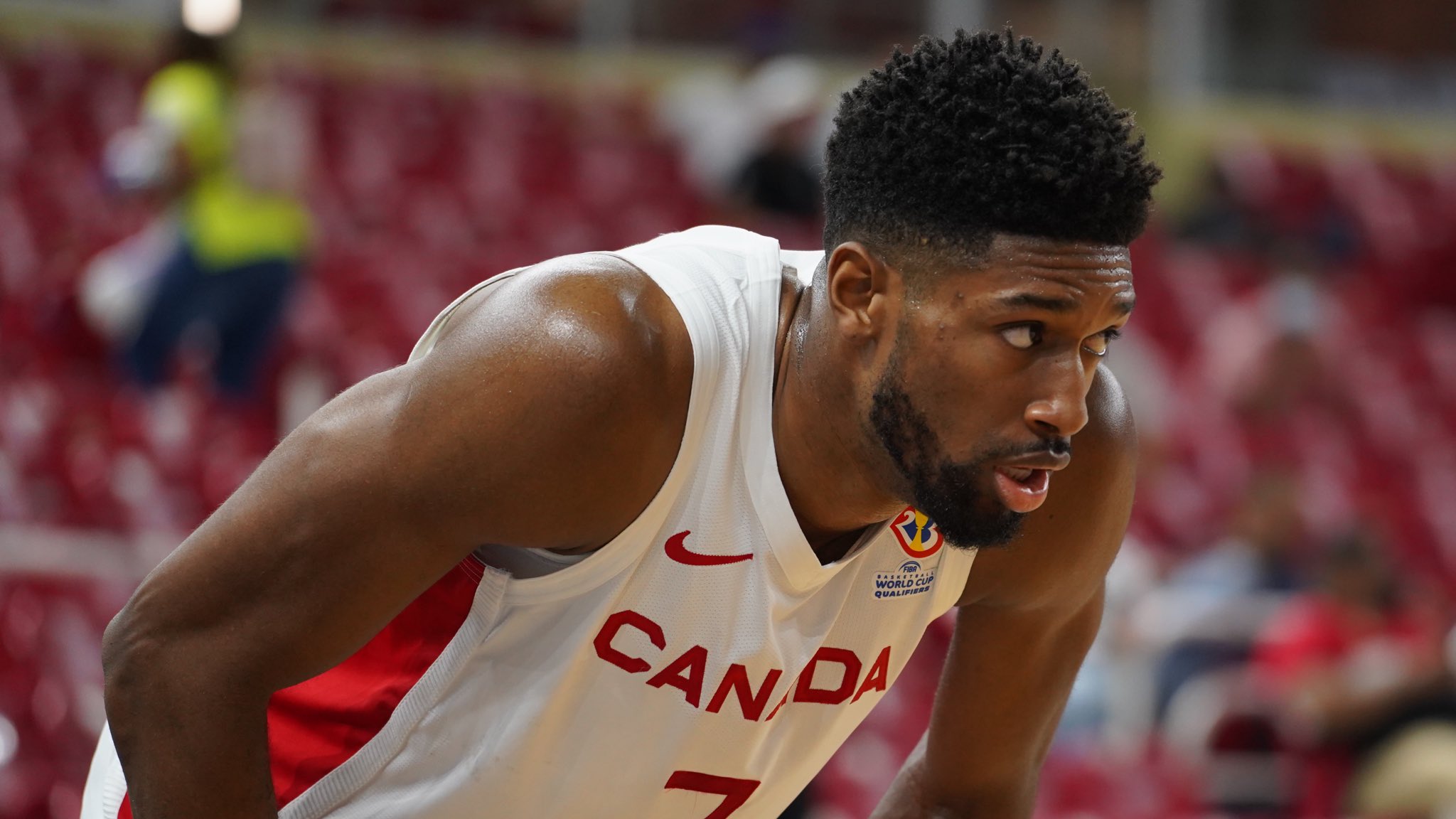 Kyle Alexander (Courtesy pbs.twimg.com)
Overview: After a very good showing in the 2021 summer league, Alexander seemed like he might get another chance in the NBA (He had a 2-game stint with the Miami Heat in 2019-20). It didn't happen and he went back to play in the Spanish league, generally considered the best domestic league in Europe. Going back to his college days at Tennessee, Alexander has never been a stat sheet stuffer on the offensive end. However, he's made some serious strides, really elevated his game and is currently playing very well.  
Following a bit of a slow start, over his last 11 games, Alexander is putting up 14.5 PPG and 6 RPG. He's also been highly consistent (only one game not in double figures) and incredibly efficient (71% from the field; only one game under 60%). He even hits the occasional 3-pointer (5 of 11 from behind the arc during this stretch). Alongside this offensive production, he has continued to provide excellent rim protection (2 blocks per game) and switchability, two traits that have always been his calling card given his combination of size, length, and fluidity. I truly think he deserves another real shot in the NBA. 
Team Canada Outlook: Alexander, who has never played for one of the Canadian junior teams, made his debut in the red and white last month in the first qualifying window for the 2023 World Cup. It was quite a sight for sore eyes. His statistical output didn't jump out of the page and he wasn't exceedingly dominant. Mind you, though, that it was not required against a very weak rival (two blowout Canadian wins against the Bahamas). In just 20 minutes per game, he provided exactly what the CMNT has been missing at the center position for years: a combination of size, rebounding, rim protection, and athletic finishes at the rim. For me, he needs to be high on the list for any future team, even if the NBA Bigs are in the mix, as he brings a unique mix of size and shot blocking skills. 
MFIONDU KABENGELE | Rio Grande Valley (G League) | 24.4yo C | 6'10, 250lbs, 7'3 wingspan | College: Florida State | from Burlington, ON 
Mfiondu Kabengele  (Courtesy therookiewire.usatoday.com)
Overview: The first-round pick from the 2019 draft hasn't been able to find consistent playing time in the NBA and failed to make an impact in the few opportunities he received with the Clippers and the Cavaliers). Nonetheless, he remains an interesting player. I watched a couple of his games in the G League lately and he looked good. The 3-point shooting has not really been falling for him and it hasn't since he finished college (31% on 5.3 3PA per game in his G League career). That's going to make it hard for him to get another chance in the NBA, as his shooting prowess was one of his main selling points coming out of college. Personally though, I think there's a positive side to it as it forces him to earn his keep in the paint. From what I've seen, he's been doing that pretty well this year.  
Kabengele is very active on the boards, especially the offensive glass (5 per game). He has good hands and finishes well around the rim (69% from 2). He also made 78% of his free throws in the G, though he should get to the line more often (2.5 attempts per game). He's currently at 17.5ppg and 10.5rpg, adding 2 stocks (steals plus blocks). He's not the most adept passer, but he can make the right read, having significantly improved his passing since college. On defense, he's not an elite shot blocker but can keep up with big guys. He's also not a complete liability in P&R and does a good job cleaning up the defensive boards (6 per game this year).  
Team Canada outlook: "Fio" has yet to play for Team Canada at any age group. He's a late bloomer and hence was not relevant for any of the youth teams. He also didn't play this summer in Victoria. Therefore, it remains to be seen whether he's even interested in putting on the red and white at some point in the future. His days as an NBA player might be behind him, though I'm sure he'd love to get another chance. As he is turning 25 this summer, it might be time for him to start considering some overseas options seriously. He has the potential to become a very good player in top European leagues, perhaps even a good Euroleague player. From a Team Canada perspective, this might be the best outcome. He'll be available for some of the qualifying windows and we'll get to see how he looks like if he's interested in suiting up. 
SIMI SHITTU | Ironi Nes Ziona (Israel) | 22.2yo | 6'10, 240lbs, 7'1 wingspan | College: Vanderbilt | from Burlington, ON 
Simi Shittu (Courtesy cdn.vox-cdn.com)
Overview: 3 years ago, if you asked any Canadian basketball fan (myself included) who our most promising young big is, most people would have answered with this guy. Simi is notably younger than the two guys named above and there's no reason to give up on his potential. However, his single college year should have helped us temper the high hopes many of us had for him. Things didn't quite work out well at Vanderbilt and he went from being a potential lottery pick to being undrafted. Although he did flash some offensive prowess, his touch around the rim and from the perimeter did not impress NBA scouts. Additionally, his defensive intensity and awareness were not quite on an NBA level. 
He still tried his luck in the NBA draft following his freshman college year but was not drafted. Shittu did play quite well in the G League last year (15 PPG and 10 RPG, making 56% of his 2-pointers). There was even a time when I thought he might get a chance in the NBA. However, there are several reasons why that hasn't been the case.  
Most notably, despite some intriguing flashes he showed in high school, it's fairly clear now that he doesn't have a strong perimeter game and shooting touch. While in Vanderbilt, he took 18 threes and made only 1. In both college and the G League he shot around 50% from the FT line. And he currently stands at 5 of 23 from the FT line (21%!) in his 5 first games in Israel and missed all of his 3-point attempts. This would indicate he has to earn his keep in the paint, which he actually managed to do pretty well in the G, though so far not as well as an overseas pro. However, it doesn't bode well for his future as an NBA player, considering he's also not an elite rim protector nor a great passer, and does not possess freakish athleticism.  
Team Canada outlook: I'm glad to see Simi trying the overseas option now, even if the reason was more about personal circumstances. He's had an unremarkable start to his pro career in Israel (6 points and 6 rebounds per game). It's important to remember though that the transition to the international game often requires an adjustment period. I would be happy to see him get a chance to run with Team Canada at some point, perhaps in one of the qualifying windows if he's interested to play.  
For now, I'm higher on the two guys above (especially Alexander), as well as on a couple of college players as potential Team Canada prospects. I'll write about some of these in my next two posts. 
Stay tuned!