On Point Scouting Exclusive written by Aaron Shore
Part 1 – The Pros:
The Future of Canadian Basketball in the Paint: Part 1
Part 2 – College Upperclassmen: 
The Future of Canadian Basketball in the Paint: Part 2, College Upperclassmen
Part 3 – Zach Edey
The Future of Canadian Basketball in the Paint, Part 3: Zach Edey
Part 4-College Underclassmen
The Future of Canadian Basketball in the Paint, Part 4: College Underclassmen
After covering the pros, college upperclassmen, and college underclassmen, I'll end this feature on the future of Canadian basketball in the paint with a few high school prospects and some final reflections.  
Years of watching the younger ages have taught me to be very cautious when making any future predictions at these ages. This is particularly the case for big men, who often take longer to develop and mature, both physically and in terms of their game.  
A quick look at Canada's current leading bigs surely demonstrates this point: 
On the one hand, we have guys like Robert Sacre, Simi Shittu, Anthony Bennett, Sim Bhullar, and to an extent even Trey Lyles. All of them were considered promising interior prospects (to various degrees) as teenagers. But none of them has quite lived up to the early hype. Lyles is clearly the best of this group. He's a steady NBA rotation player, who's quietly been playing quite well this season after nearly being pushed out of the league. But as a high school player and even after finishing his single season at Kentucky, many hoped he might become more than just that. The Denver Nuggets actually acquired him in 2017 for… Donovan Mitchell, surely one of the most questionable draft night moves in recent history. Just imagine a backcourt of Murray and Mitchell with Jokic dominating down low... 
Jamal Murray (Courtesy eurohoops.net)
On the other hand, an even larger group is that of players who were relatively (or completely) anonymous as teenagers when coming out of high school. This list includes Sam Dalambert, Joel Anthony, and more recently Kelly Olynyk, Dwight Powell, Chris Boucher, Brandon Clarke, and Mfiondu Kabengele. This is without accounting for a few of the youngsters mentioned in my earlier posts, such as Zach Edey and Fardaws Aimaq. Trying to think back to their high school days, Powell was probably the most well-known among this group when he came out of high school. But even he was considered a 4-star prospect, who most people did not envision to be a future NBA player. The others were even less known.  
For some of these players – guys like Boucher, Kabengele, Olynyk, and Clarke – it was partly a matter of late physical development and partly of unexpected growth spurts. Others – guys like Edey, Aimaq, Boucher, and Anthony – started playing at a later age and/or flew under the radar as they were figuring out their body and game. 
Regardless of the reasons, the bottom line is that in most cases, predictions for big men based on how they look in high school are likely to miss the mark.  
With that in mind, probably the best I can do right now is point out a few guys who already have size and an interesting physical profile (a few of them also possess a burgeoning skillset) and hope that at least one or two of them are on a good developmental trajectory. Then, we should also keep our eyes open and our fingers crossed for another Olynyk, Boucher, Clarke, or Kabengele to pop "out of nowhere" in the coming years.  
With this amount of uncertainty, though, I'm not even going to mention anyone here who still has more than a year of high school to go, where it's not even clear whether or not they are done growing in height. 
JEREMY FOUMENA | 18.4yo | 6'11, 230lbs, 7'2 wingspan | Orangeville Prep (OSBA) | No college commitment | from St-Jean-Sur-Richelieu, QC 
Jeremy Foumena (Courtesy wixstatic.com)
Foumena is the guy who's having the most impressive break-out season amongst the Canadian bigs in high school. Watching him two years ago, you could already see some potential. But he was maybe 6'8, not very strong, didn't really play much in the paint, and didn't leave much of a mark on games. This summer in Nike EYBL he still only saw sporadic minutes and didn't do too much. However, since the beginning of the OSBA season, he's been on another level. 
Now standing at 6'11, Foumena has good tools with a combination of size and excellent mobility. He's quite skilled for his age, already showing a pretty advanced post-up game, good-looking footwork, and a nice baby-hook shot. I also like his energy, consistency, and hunger, being very active around the boards on both ends of the floor. He's not a jaw-dropping high flyer, but he's long, fluid, and plays above the rim with ease. He can also handle the ball a little. Nothing too flashy, but at the high school level he's able to grab the defensive board and go quickly, with long steps and some vision. Probably not something he'll be allowed to explore much at higher levels, but good to see that he has some feel and comfort handling the ball (this can prove useful in situations like full-court pressure). 
He's a very good rebounder, especially on the defensive end. Goes after it, fights for good positioning, and uses his long arms to secure the boards. He leads both the OSBA and the Grind Session (a North American league featuring multiple ESPN 2022 Top-100 bigs) in rebounds, with 13 per game in the latter. He also finishes well in the paint with either hand, showing a good shooting touch and feel for his positioning under the rim 
Foumena also has some interesting shooting potential, I think. He has a nice stroke from the line and makes his free throws quite consistently. He also already takes and regularly makes some 3s and mid-range shots, with a shooting form that looks fairly smooth and natural. He certainly doesn't have anything resembling the perimeter skills and comfort of guys like Paulo Banchero, Jabari Smith, or Chet Holmgren, so he's not going to be a modern versatile big and will probably only be able to play the center position. He also doesn't have advanced passing yet, though he can make the right read. Overall, though, the physical tools, skill, motor, and progress trajectory are intriguing and quite promising. 
ARMANY MIGHTY | 6'11, 210lbs | United Scholastic Academy (OSBA) | Boston College commit | from Thornhill, ON 
Armani Mighty (Courtesy /pbs.twimg.com)
Mighty has a similar profile to that of Foumena in terms of size, mobility, and athletic abilities. He moves really well on the court and has a very fluid game. But he's at an earlier stage in his development than Foumena, at least offensively and has plenty of room to grow. He already shows some intriguing defensive presence though. He's a very good shot blocker with good vertical challenge, flashes some switchability in the P&R, and he's also a good rebounder. He's not an elite defender and still suffers from the occasional defensive lapses that are typical for this age, but the potential looks promising with good energy and motor.  
Offensively, there's still much to work on, but there are also some encouraging flashes. It starts with the combination of size, mobility, and good athleticism, which provide a good base to build on. He's already a lob threat (especially in transition) and can finish quite well around the rim. He still lacks a degree of explosiveness when finishing with contact. His gather is too slow, resulting in his shot too often getting blocked, which is something he'll need to improve on. However, I think at least part of it is a matter of building up his strength and body, as well as his skill level. 
Shooting wise, I think there's also some potential. He's a decent free throw shooter and can also make the occasional open 3-ball, though he's hesitant taking them. Part of the reason I'm fairly high on him is that I really like his developmental trajectory. When I watched him two years ago he was smaller, but also looked very limited in terms of skill and feel. Two years later, he looks like an entirely different player – more mobile, with better ball skills, and even a budding outside shot. I think he's far from done in terms of both physical development and skill. 
LUKE HUNGER | 19yo, 6'10, 260lbs | Northfield Mount Hermon (MA) | Northwestern commit | from Montreal, QC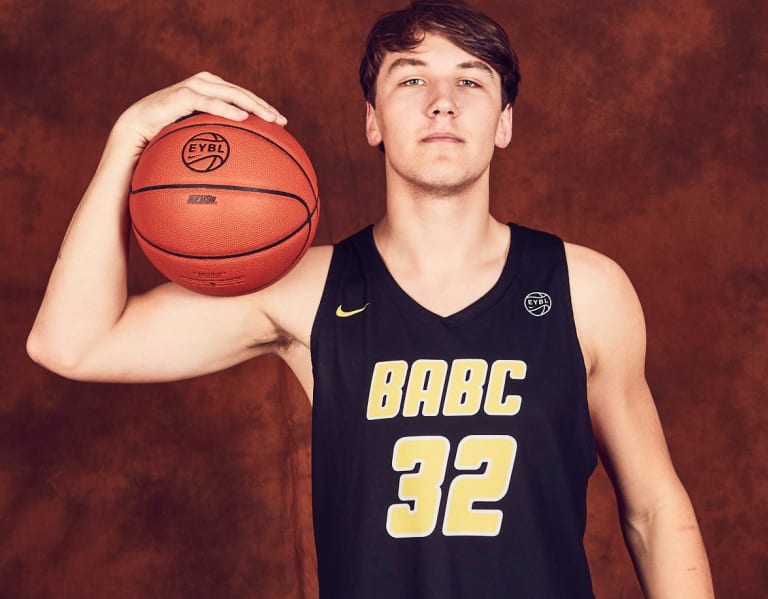 Luke Hunger (Courtesy rivals.com)
I watched Hunger play some AAU basketball this past summer and was quite impressed. He was clearly the most productive Canadian big man in Peach Jam. Luke is more ready and mature (also older) than Foumena and Mighty and is much more polished offensively. Like the other two, he's made big strides over the last two years, adding considerable size, strength, and skill. Hunger has a very different body type and game from the two guys above. He's a bit heavy and not the most explosive athlete. But he's offensive game is advanced, showing excellent footwork around the rim and the ability to finish in a variety of ways with a soft touch. His improvement since his time with the Canadian U16 team in 2019, playing in the FIBA Americas, has been quite a revelation. At the time, he played limited minutes and did little more than shooting the ball from the perimeter. Almost three years later, he's very active in the paint and a very good rebounder despite not being very long or bouncy. He also showed some ability to put the ball on the floor and penetrate, though he coughed it up quite a bit against tight defenses with quick-handed guards and wings. Shooting remains one of his strengths and he's the only high school big on this list who's a real threat from the perimeter at this point. He can be a bit streaky and has a low flat-footed (but fairly quick) release. But he certainly has touch and he shoots the ball with a lot of confidence and without hesitation.
Not an elite leaper, Hunger plays mostly below the rim and has a bit of a hard time finishing against long athletic defenders in the paint. He's also quite turnover-prone when trying to do too much. But he finished Peach Jam with something like 16 and 9 (I don't have the official stats) and was clearly the best big on his team and the only Canadian big who was truly productive in the event. Given his athletic limitations, he's probably not an NBA prospect, but could still develop into a really nice college big with time, especially if he can trim a bit and further improve his quickness and mobility, while continuing to hone his perimeter skills. Should also be a good FIBA player with good feel, skill, and shooting. 
I'll briefly mention four other 2022 bigs in 50 words or less. Of note, all are from Western Canada. 
Issac Jack | 6'11, 240lbs Port | Fort Erie International Academy (OSBA) | no college commitment | from Alberni, BC 
Played with Uplay this summer and I thought he was their best big. Shows much of the same now with fort Erie in the OSBA. Good mobility and some pop. Rolls hard to the rim and plays above the rim with ease. Also showed a bit of perimeter shooting.  
Jaxon Koroll | 6'11, 250lbs, 7'1 wingspan | no college commitment | from Chestermere, AB 
Jaxon Koroll (Courtesy  twimg.com)
Watched him at the Canadian Nationals with Team Alberta in 2019 and he looked like an intriguing prospect. Good mobility and decent athleticism. Quite strong. Nice stroke from the FT line. Good footwork in the paint. Haven't watched him much since so will need to see how he progressed. 
Caelum Swanton-Rodger | 18.5yo, 6'11, 220lbs | no college commitment | from Calgary, AB 
Very good shot blocker (leads The Grind Session in blocks) with good timing and effort. Moves well and can switch in the P&R. Offensive game is not very advanced and his frame is on the lighter side, though he's added some weight since playing with Team Canada's U16 in 2019.   
Jayden Webley | 18.3yo, 6'10, 260lbs | Fort Erie International Academy (OSBA) | No college commitment | from Calgary, AB 
A big-bodied, strong center, who plays old-style basketball and can put a body. Good rebounder and plays hard. But Slow feet and reaction time, mediocre athleticism, and weak shooting touch (around the rim and beyond) limit potential. 
THE 7'6 GUY 
Olivier Rioux | 16.1yo, 7'6 | IMG Academy | from Montreal, QC  
Olivier Rioux (Courtesy cdn.abcotvs.com)
Okay, I know I said I'm not going to talk about anyone beyond those who are just about to finish high school. But we do need to talk about another giant amongst Canadian bigs. Yes, he's only 16, but you just can't ignore a 7'6 guy (who might not even be done growing) in a series devoted to the future of Canadian bigs.  
The bottom line for Rioux should be stated upfront: He doesn't seem to have the talent of a Yao Ming or a Zach Edey. On the one hand, he has very decent lower-body strength (often an issue with players over 7'3), with a relatively low center of gravity (similar to Edey and Ming). Some of his fundamentals and habits are also good, mostly keeping the ball high and his eyes up. He also shows some competitive spirit, a good coachable character, and he even flashed some shooting and passing potential. At this very early stage in his development, it's really impossible to say how much further he can advance.  
On the other hand, he currently plays much smaller than his size, for several reasons. First, he has a long neck, meaning his shoulders are lower than what his height suggests. He's also athletically limited and has a tendency not to bend his knees and not to stretch his arms out. The latter, I think, more than just a bad habit that can be cleaned (though it might also be that) is at least partly a function of slow processing and reaction time. By the time the hands are fully stretched, the play has already passed. This slow reaction time is also responsible for what looks like bad hands and a lack of interest and passion on the court. That is, it's not that he's not interested in making the right plays and going after the ball; he just doesn't have the reaction time to get there. This is certainly something that can be improved, but probably only to an extent. 
As I said, it's too early to tell where all of this is going. To be a pro (most likely not an NBA player given where the game has gone), Rioux will really have to improve his conditioning, athleticism, reaction time, upper body strength, and shooting. All of these are possible and the tired adage "you can't teach size" remains true. I think he made the right choice in going fairly early in his career to IMG, which has a good track record in developing bigs (most recently Canadians Zach Edey and Charles Bediako). Two or three years there and a couple of years in the right college could do wonders to his development and turn him into a potentially important piece for the Canadian Senior Men's National team (he's already getting opportunities to run with the junior teams).  
FINAL THOUGHTS: 
Well, where does all this leave us? 
Looking at the names I talked about throughout this series of posts as a whole (from the pros to high school), you won't find any generational talents. There is most likely no one here with the talent and potential impact of guys like Nikola Jokic, Joel Embiid, Anthony Davis, Karl-Anthony Towns, Bam Adebayo, Rudy Gobert, or Giannis Antetokounmpo. Most likely, it's not even close. And that's okay. These are rare talents and few countries have been blessed with such players.
To be sure, it's also not likely that any of the guys I've mentioned will get to the level of European NBA starters like Kristaps Porzingis, Domantas Sabonis, Jonas Valanciunas, or Nikola Vucevic. And that's also fine considering that basketball today, at almost any level, is primarily a guards and wings game. 
Clearly, Team Canada's strength will continue to be in the guard and wing positions. Guys like Jamal Murray, Shai Gilgeous-Alexander, Nickeil Alexander-Walker, Luguentz Dort, RJ Barrett, Dillon Brooks, Andrew Wiggins, and Oshae Brissett are all still under 27 (most of them under 25). They form a strong core and will continue to dominate. To these eight, we might add a number of guys who are not yet 20 years old and have the potential to join this level of play in the next few years. Players like Josh Primo, Ben Mathurin, Caleb Houstan, Shaedon Sharpe, Leonard Miller, Elijah Fisher, Ryan Nembhard, and maybe a few others may become relevant for Team Canada by the 2027-28 World Cup and Olympics cycle.  
But I started this feature making the argument that sheer size (well, obviously with at least some degree of talent) is crucial in FIBA play, definitely more so than it is in today's NBA. The Czech and Greek players I mentioned in my first post are far from great talents and none of them is good enough to play in the NBA. Yet, these are precisely the kind of players who have been giving Team Canada grief for many years now. This was again revealed a week ago in Canada's World cup qualifying game against the Dominican Republic. Kyle Alexander got into foul trouble and Canada had very little depth behind him, which almost cost them the game. 
So, although most of the guys I wrote about here may never make it to the NBA (there's even a chance that none of them will), I hope quite a few of them develop a professional career overseas. And then, when the time comes, I hope Canada is smart enough to have the best of them on the national team when it matters, even at the expense of guys who are playing in the NBA but might be less well-suited for banging in the paint in FIBA play. 
If Canada can build a steady base, with a rotation of guys like Alexander, Kabengele, Edey, Bediako, Aimaq, and whoever else pops out in the coming years (hopefully, together with some NBA guys joining in for big tournaments), then there needs to be no reason for us to once again lament our lack of size and inferiority in the paint.